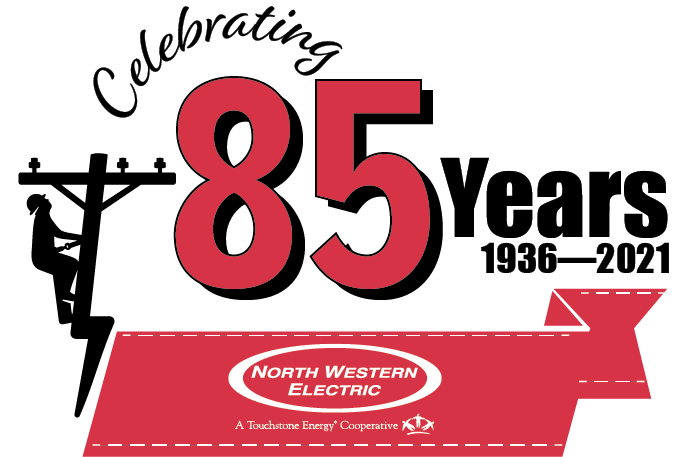 1935
In the New Deal, President Franklin D. Roosevelt issued an executive order that created the Rural Electrification Administration (REA). This allowed the federal government to make low-cost loans to non-profit cooperatives for the purpose of bringing electricity to all areas of rural America.
1936
President Roosevelt passed The Rural Electrification Act, making the REA's promise
of long-term funding for rural electricity a reality.
1936
Local farmers in northwest Ohio decided they wanted the same benefits of central station electric service as people living in the city. Six men, Arthur Sherman, Paul McCoy, Burl Rigg, Paul Kimpel, Louis Balser, and Forrest Traxler took on the task of forming NWEC. The first NWEC office opened at 417 W. Main Street in Montpelier, OH
1937
NWEC applied for REA loan of $285,000 to serve 1,000 members.

1938
NWEC's first line was energized with the average monthly consumption of 40 kWh

1945
The first 20 miles of 34,500-volt transmission line was built to increase capacity to serve more members.
1949
Buckeye Power Inc. was formed by Ohio's 28 electric cooperatives.

1950
NWEC moved to a new office building on W. High Street, Bryan, OH.
1961
Members Bernard & Anna Sines built the first all-electric home on NWEC lines.
1968
The Cardinal Power Plant Unit #2 came online with 600 megawatt (MW) generating capacity. The coal fired plant was built by Buckeye Power and the 28 Ohio electric cooperatives to supply wholesale power for their members.

1970
NWEC energizes new 6 mile 69,000 volt transmission line.
1972
NWEC energizes a new 15 mile, 69 KV transmission line. It was the first step in a five year plan to give the cooperative a two-way loop feed from Buckeye Power, Inc.

1974
The first Radio Control Switch was installed on a NWEC member's water heater as part of the load management program. The program was designed to reduce electric load during peak usage times.
1977
The Cardinal Power Plant Unit #3 was constructed with a generating capacity of 630 MW to meet the increasing need for electricity.
1978
The first general refund of capital credits was issued to NWEC members.
1980
NWEC new office opened on State Route 576 in Bryan, OH.

1981
NWEC completed the 69 KV transmission loop, permitting a two-way feed to most substations for greater service reliability.
1991
A tornado hit the Nettle Lake area damaging 23 NWEC poles and at least 200 homes were damaged or destroyed.
1997
The cooperative website, www.nwec.com, was launched.
2000
NWEC began installing Automatic Meter Reading (AMR) Turtle meters. This conversion allowed the office to receive readings through the power lines on a daily basis. The Turtle meter eliminated the need for members to send in their monthly meter readings.
2009
NWEC began upgrading the Turtle meters with Cannon meters. The Cannon meters allow constant two-way reading technology that includes voltage and demand information.

2016
NWEC energizes a new 11 mile, 69 KV transmission loop, permitting a two-way feed to the Ney substation for greater service reliability.
2016
Our Solar, a community solar array, was constructed putting local renewable energy on the grid.
2016
NWEC serves 5,892 consumers with 992 miles of distribution and 68 miles of transmission.
2017
NWEC starts a propane subsidiary: NW Ohio Propane.
2020
NWEC holds first-ever drive-thru annual meeting due to COVID-19.

2021
NWEC serves 5,976 consumers with 1,000+ miles of distribution line and 83 miles of transmission line. The co-op has 16 employees and scores their highest-ever member satisfaction survey rating (91), showcasing superior member service.
Do you have old photos, information, or stories to share about NWEC's history? Contact pearl@nwec.com or call our office to keep our history going strong! Thanks to all member-owners for helping us celebrate this historic anniversary.